A baby brings a lot of change and experience in the life of a parent. You need to give all of your focus on making sure that the baby is safe and comfortable. On top of that, you also need to work and do other duties.
So, it can get quite hectic trying to remember all the small things you need to buy for the little one. We understand how challenging it can get, and for that reason, here is a checklist of the essential things you would need for your baby.
Handling Newborn:
Before touching your Newborn baby, don't forget to use a hand sanitizer or washing your hands properly. It because of newborns' immune system, which is not strong yet. Take the risk of infection seriously at the very early stage.
Some of us like play rough with babies like throwing them in the air or jiggling them on the knee, etc. Never do these or let someone else do it with your newborn because rough move can cause physical and mental disorders.
Cradle your baby's head when carrying him/her. The head and neck are fragile in the initial stage. So, support the head with a soft hand while you are laying the baby down or carrying upright.
First, you should lock your baby securely into the stroller, carrier, or car seat. Make sure that the newborn is safe from any rough or bouncy activity.
Always keep in mind that reckless shaking of your infant may cause bleeding in his brain. Be careful when you are playing with your baby or walking.
Breastfeed Tips:
You don't have to worry about babies eating until about six months because they don't need anything without breast milk. We recommend collecting a set of bottles that helpful for storing milk, water, or exclusively for breastfeeding purposes.
Some parents love to collect breast pumps, which helps babies to have milks properly during breastfeeding.
Don't forget to wash bottles thoroughly with any kind of quality bottle-cleaning brush. Also, in a proper bottle basket, you can put them in the dishwasher. It's easy to collect cleaning items anywhere from the market and online.
Keep in mind that you need to make the breastfeeding of your baby as comfortable as possible. So, ensure the best use of breast pads, nursing bras, and nipple cream. Don't forget to check all of these if safe for the baby and the mother.
It's an essential item for a breastfeeding mother to protect her baby from spit-up milk everywhere. So, put a napkin on the newborn while breastfeeding.
Baby Skincare Essentials:
Baby skins are soft, sensitive, and sleazy. Just before going to bed, you can use soothing baby oil to moisturize the skin. It also helps them with relaxing. Olive Oils are also useful for newborn baby skincare.
We need to be careful about protecting the baby's skin from longtime exposure to direct sun, and high-quality sunscreen is the best option for this job. A quality cream will hydrate, nourish, and cool your newborn's skin.
Just like our skin, newborns also get dry skin! So, to keep the baby's skin healthy, smooth, and soft, pick a quality body lotion.
Baby Clothing Essential Checklist: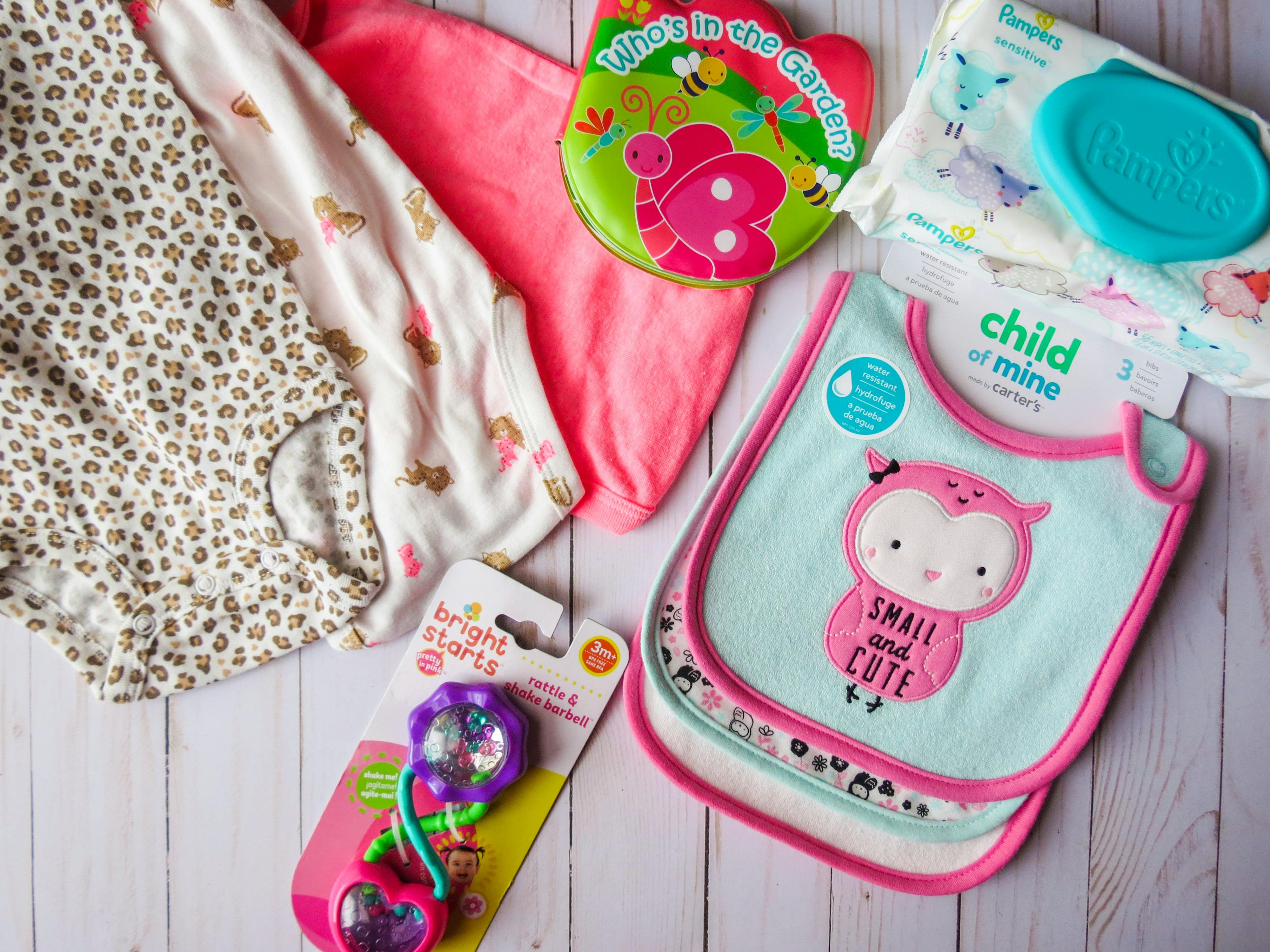 Most of the time, you need to keep the baby's leg warm, especially in the cold months. Try to choose pants that come with soft cotton and able to keep the body warmer. So, wear them pant with soft waist rubber over their onesies.
At the very first stage, we need to put the baby on or take them off carefully, especially for the first year. Onesies that usually snap between the legs make it easy for us to take the newborns.
We need to keep the newborns' body protected and warm if we get out of the home. We care about clothing but also make sure that their feet are web protected. Maybe it's not necessary to wear shoes, but socks are essential at any age.
It's not a necessary thing to survive, but sometimes it would be helpful for parents when they need to go to any holiday festival or important family event with their newborn. For that reason, getting a special outfit is not so costly, but you don't need to use it regularly.
It's one of the important baby essentials, especially in the winter. It helps to protect the skin of newborns, mostly in tough weather. Make sure that a couple of light jackets and sweaters in your collection.
When the question comes to the hat for baby, first need to consider the season of purchase. Another thing that they lose hats a lot. So, if you are purchasing a hat in the cold weather or area, then pick the winter hat that could help to keep the baby warm.
A sun hat is perfect for protecting from sunburn if you are purchasing this in the summer. Try to keep your newborn's head cozy with the hat to protect from losing it.
A soft sleeper helps your newborn to sleep comfortably. It must be made of cotton, which reduces itching, uncommonness, and delivers skin soothing moisture.
It also depends on where you live and the season you are passing. A verity of swimsuit available on the market, pick a good quality one with comfort and choice.
Baby Supplies Essential List:
Diapers are an essential thing for newborn babies. Maybe it demands the top position on the baby essentials checklist. Both types of diapers, disposable diapers, and cloth diapers have their special advantages. You should keep plenty of diapers on hand and must follow the proper and healthy way of removing diapers.
Avoiding diaper rash is most important for your baby health. So, using a good diaper rash cream will keep your newborn protected and soft as normal.
Every time it is a must-do task cleaning the newborn's bottom properly during the change of diaper. Most of the quality diapers available on the market are specially formulated for baby's skin.
Having a diaper bag to keep all your supplies close is a no-brainer. It can serve many things, such as giving you a place to dispose of used diapers when you are out in a park.
Some people think baby powders are good for the baby, and some do not. We are not here to judge either way, but if you want to use powders, make sure you get something that is specifically designed for babies. Also, ensure that your baby is not allergic to it.
Baby Health Essentials:
To groom your baby, you need to keep some items close at hand. Newborns get sick without any warning or previous symptoms, so you need to keep the following things handy so that you can find them in a hurry.
When the nails of your child get longer, you want something to cut them short. Babies can scratch themselves since they do not know any better, and you need to trim down their nails to protect them.
You can find thermometers in the market that are specifically designed for baby care. Keep this device in a place you can access easily so that you can check for abnormalities in temperature if your baby seems calmer or fussier than usual.
You also need a first aid kit with some basic baby medicine and gauze in case of an emergency. If you have circumcised your baby recently, you should also keep some petroleum jelly in the kit.
Some parents choose not to use pacifiers for their babies. However, studies show that pacifiers are more helpful in keeping babies calm. If you are pro-pacifier, you should keep at least four to six pacifiers in hand for when your baby seems extra fussy.
Baby Nursery Essentials
When it comes to the room of your little one, you cannot and should not cheap out. Go through the following list and make sure you have each of them to ensure your baby gets a sound sleep every time.
Your baby's crib needs to be both comfortable and safe for the baby. Check for any bumps or blemishes in the finish that might scratch your kid. Furthermore, the railings should be high enough that the baby does not fall over even when he learns how to sit or stand on his own.
Soft Pillows And Mattress
You need a few pillows and a soft mattress to go along with the crib of your choice. A baby, especially a newborn, will spend most of his nights sleeping. So you need to make sure that he gets a comfortable mattress so that he does feel any discomfort when lying down.
Although not exactly an item that you need to buy, you do need to ensure that the baby's room gets sufficient airflow. One way to do that is by adding a dehumidifier or any other form of air conditioning system in the room. Additionally, make sure the room gets plenty of light and fresh air.
Taking care of your baby is a full-time job. But you still need to take care of your household chores every now and then.
A baby monitor really comes in handy in situations where you have to take care of something around the house and cannot afford to be around the baby. Having a baby monitor in the nursery will give you the freedom to do other chores when the baby is sleeping.
A rocking chair is a nice addition in the nursery because it caters to your comfort as well as that of the baby. If your baby is fussing in his cradle, you can pick him up and sit on the rocking chair with him on your lap and sway gently. Within no time, you will see him calm down. It is also a helpful tool while breastfeeding.
You would also need a table to change the baby's diaper in the nursery. Keep a bin nearby to dispose of the dirty diapers and keep everything hygienic. Also, you can keep the diaper supplies in the drawer of the table for easy access.
Baby Essential Gears
Finally, we will list a few gears that provide some extra comfort and usability when taking care of the little one. These devices offer a quality of life improvement for the parents, so they are not something to be overlooked.
A car seat for the baby will allow you to take him out for a drive whenever you want to. It will give you a chance to bond with your child and also give him a fresh perspective on the world. Furthermore, the vibration of the car replicates the feeling of being back in the womb for the baby, which in turn, helps soothe and relax him.
Getting a baby stroller will let you visit parks and other places with your baby creating new and happy memories. It can get hard carrying the baby around for long periods of time when you are outside. With a stroller, you do not need to worry about getting tired.
Similar to the concept of a baby stroller, a baby carrier will let you saddle him to your body without having to feel the weight on your hands. But a carrier allows the baby to feel closer to you since he is physically in touch.
When you are doing household chores, consider taking the baby on the carrier, and walking around the house with him.
A playmat will help protect the baby from the cold or slippery floor and allow him to roll around to his heart's content. Additionally, a lot of playmats come with toys attached to keep the kid occupied while you take care of other duties.
Plus more from the BabiesWiki, our Baby Essentials Checklist Infographic to checkout:
Final Thoughts
Preparing for the arrival of a baby is anything but easy. There is a lot to learn and a very short time to learn it. Hopefully, our extensive checklist can help you collect all the essential things that you need to keep your baby comfortable and healthy.